We reclaim our place on the field, because we will not let our joy be taken from us. But this is not business as usual.
Systemic transformation is not something you say. It is something you do. We, as players, demand the following:
ONE
Every coach, General Manager, representative on the Board of Governors, and owner voluntarily submit to the Players Association's independent investigation into abusive conduct. They may notify Executive Director Meghann Burke of their agreement with this demand by the close of business on Wednesday, October 13, 2021.
TWO
The scope of NWSL's investigation announced on Sunday evening, October 4, 2021, be expanded to include an investigation of each of the twelve NWSL Clubs represented on the Board of Governors to determine whether any abuse, whether presently known or unknown, has occurred at any point in time.
THREE
The scope of NWSL's investigation further be expanded to determine whether any League Office staff, NWSL Club, or person in a position of power within NWSL neglected to investigate concerns of abuse raised by any player or employee at any point in time.
FOUR
NWSL adopt an immediate "Step Back Protocol" whereby any person in a position of power (e.g. owner, representative on the Board of Governors, General Manager, or Management Supervisor) at the time that a Club either hired or separated from employment a coach who was, is, or will be under investigation for abuse be suspended from any governance or oversight role within NWSL pending the conclusion of an independent investigation, effectively immediately. For any Club that took swift action to protect players upon the discovery of facts that were not previously known to the Club, the immediate disclosure to the Players Association of the circumstances and the policies or practices implemented to prevent the same from happening again may be grounds to restore that person to their position quickly, with the Players Association's agreement.
FIVE
NWSL immediately agree to disclose all investigative reports referenced in its statement of October 3, 2021.
SIX
NWSL immediately agree to disclose to the Players Association any and all findings, conclusions, and reports are obtained pursuant to their statement of October 3, 2021, including but not limited to the reopening of the 2015 Paul Riley investigation.
SEVEN
NWSL agrees to cooperate with the Players Association's own independent investigation by a written email to Executive Director Meghann Burke by the close of business on Wednesday, October 13, 2021.
EIGHT
NWSL agrees that representatives of the Players Association have an opportunity to meet with potential Commissioner candidates and have a meaningful opportunity to be heard in the selection of the next Commissioner.
The reckoning has already begun. We will not be silent. We will be relentless in our pursuit of a league that deserves the players in it.
#NoMoreSilence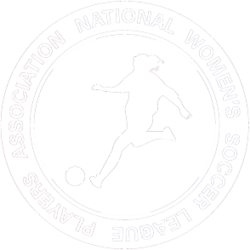 Sign The Pledge
Professional athletes of any gender should not have to have to work two, three, or four full-time jobs in addition to playing their sport professionally. I support ending the need for side-hustles in professional sports.
"Every week while trying to prepare for a big game, I've had to focus my time on making extra money just to get by. It's an exhausting schedule at times but it's truly the only way to live." – Megan Oyster
"I would wake up 
at 3:45 am

, go to work 

from 4:00-1:00 pm

, and then go straight to training 

from 1:30-4:00 pm

and then do it all over again."- Gabby Selier
"I was cleaning toilets, mopping floors, cleaning up after customers, etc. After that, I'd train by myself, train with a boys team at night when I could find one, and referee in between so I could afford the gas money to do all the above."  – Darian Jenkins
About
Soccer is one of the most successful professional women's sports in the United States. But despite an increase in TV viewership of almost 500% in the past year, a drastic gap in minimum salaries remains. Roughly 1/3 of all NWSLPA members make the League's minimum salary of $22,000 per year. Approximately 75% make $31,000 or less. (For comparison, the minimum salary in MLS is $84,000. Even a reserve player in MLS makes a minimum of $65,600).
The National Women's Soccer League (NWSL) is in its 9th season, with 10 teams and two expansion teams scheduled for 2022. NWSLPA will not wait another decade to achieve fair contracts, equal pay, and professional playing conditions.
Our goal is to set the global standard and ensure that a career in NWSL becomes a viable professional career choice in the years ahead.